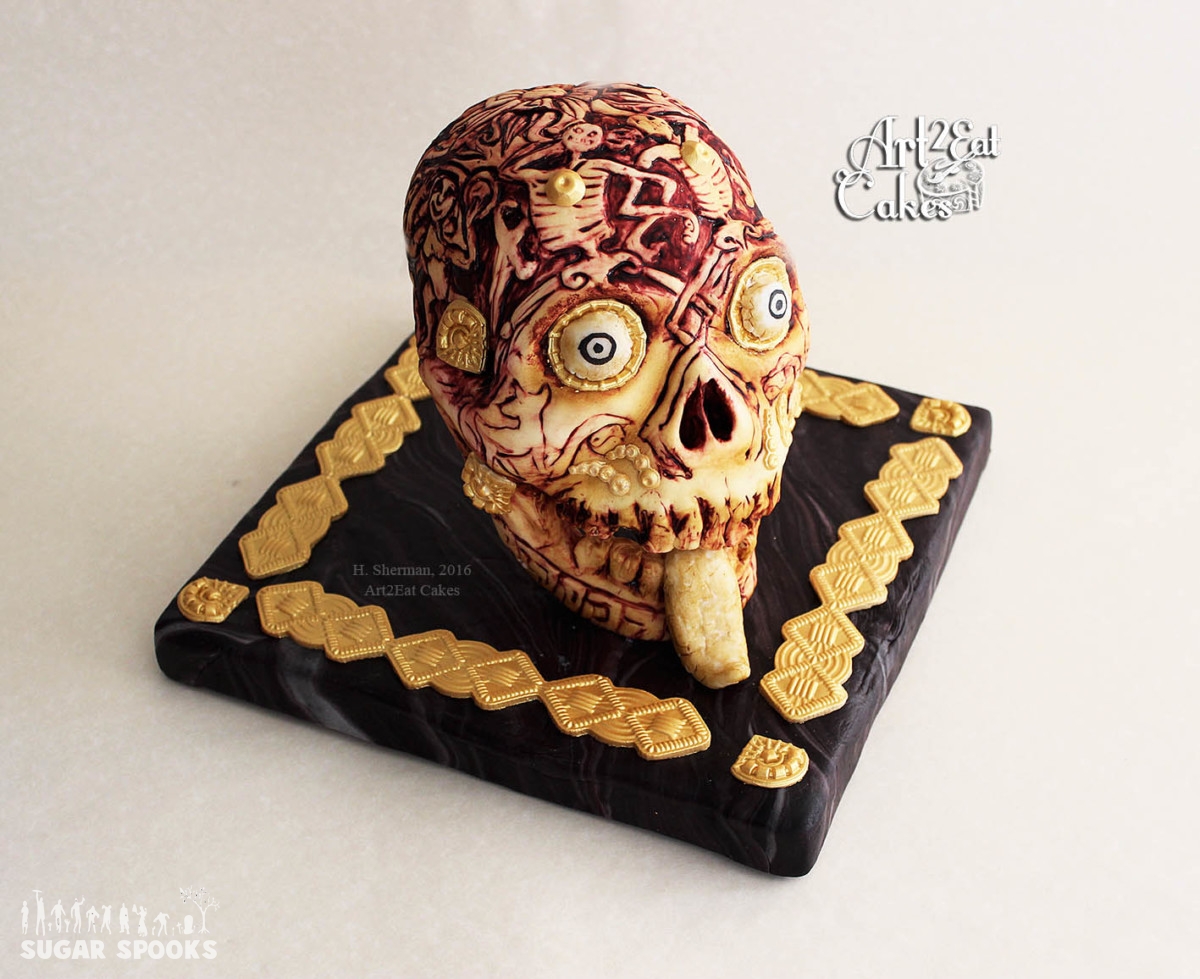 23 Oct

Kapala with Eyes of Cake – Heather Sherman

Kapala with Eyes of Cake

This is a "Kapala", a Sanskirt term meaning skull and/or bowl, and is a decorative human skull used as a ritual implement in both Hindu and Buddhist Tantra. They were often carved with decorative designs, precious metals, and jewels. In Tibetan monasteries, the kapala was used to hold dough cakes or wine, used symbolically as flesh and blood offerings to wrathful deities of Hindu India and Buddhist Tibet. The dough cakes were not just pieces of bread, but were shaped to resemble human eyes, ears and tongues. This is what made this SO appropriate for Sugar Spooks! The curved knife serves as the "method" weapon that severs the life and vital organs of demonic enemies and the skull cup is the "wisdom" vessel in which the blood and organs are collected as the deity's life source. Spiritual, Creepy, Beautiful AND Edible! Be sure to haunt the entire collab – and sleep tight…if you can…..

Heather Sherman

Art2Eat Cakes

http://www.art2eatcakes.com/
https://www.facebook.com/Art2EatCakes/
https://www.pinterest.com/art2eat/

Art is my Thrill and Cakes are my medium. I've always been an ecclectic, artistic mountain child, and involved in the kitchen, baking from a VERY early age. I remember being told as a little kid not to make scupltures out of my taco cheese. Through life I have experienced many mediums – paint, graphic design, engraving, photography, illustration, glass, kids and more, but then in 2008 I discovered CAKE. My earliest cakes got massive attention, and I continue to be dazed and delighted with the reactions my cakes get. I've been published in Cake Masters, Cake Central, Good Morning America Yahoo, Cooking.com, made cakes for Crosby, Stills & Nash, Cirque du Soleil, and many more. This Thrill is what drives me to make ever more daring designs – to "make cake fly". It it the Oooohs and Ahhs that continue into Yuuuuummmms that make Cake Art so satisfying. Sculpted Cake is truly Performance Art; a multi-layered experience for all the senses.